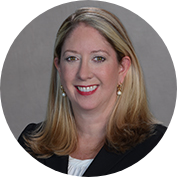 Michele Ready joined the firm in 1997. This month she is celebrating 25 years as a member of the Florida Bar! Throughout her tenure, Ms. Ready has earned the respect of both the Judges as well as her colleagues in the field and is AV rated by Martindale-Hubbell. She is also an inaugural member of the Richard A. Sicking American Inn of Court.
Prior to joining the firm, Ms. Ready worked in business management after obtaining a B.A. degree in Music with a minor in Marketing at The Ohio State University. In law school at the University of Miami, where she graduated cum laude, Ms. Ready was a member of the Business Law Journal and the Florida Sports and & Entertainment Law Review.
Today, Ms. Ready's practice is dedicated to a deep understanding of the Florida workers' compensation landscape, including appeals, and Medicare Secondary Payer (MSP) compliance. Ms. Ready has lectured throughout the state of Florida on various workers' compensation matters, including appeals, MSP, and most recently handling Covid-19 claims. Over the years, she has been invited to participate in panel discussions presented at the Florida Workers' Compensation Institute 2010 and 2011 Conference in Orlando, Florida, as well as at the American Bar Association's Standing Committee's Legal Professional Liability 2010 conference in Scottsdale, Arizona. In 2013, Ms. Ready spoke on a national panel of experts at the annual education conference of NAMSAP in Baltimore, Maryland, and in 2015 in New Orleans, Louisiana. Earlier this year, she was a featured speaker for the Broward PRIMA group.
Ms. Ready resides in South Miami, Florida with her husband, Robertson Adams, and their teen-aged daughter. Together they share a love of the outdoors and often volunteer to protect Florida's fragile natural environment.
---
Follow us on:
Share This