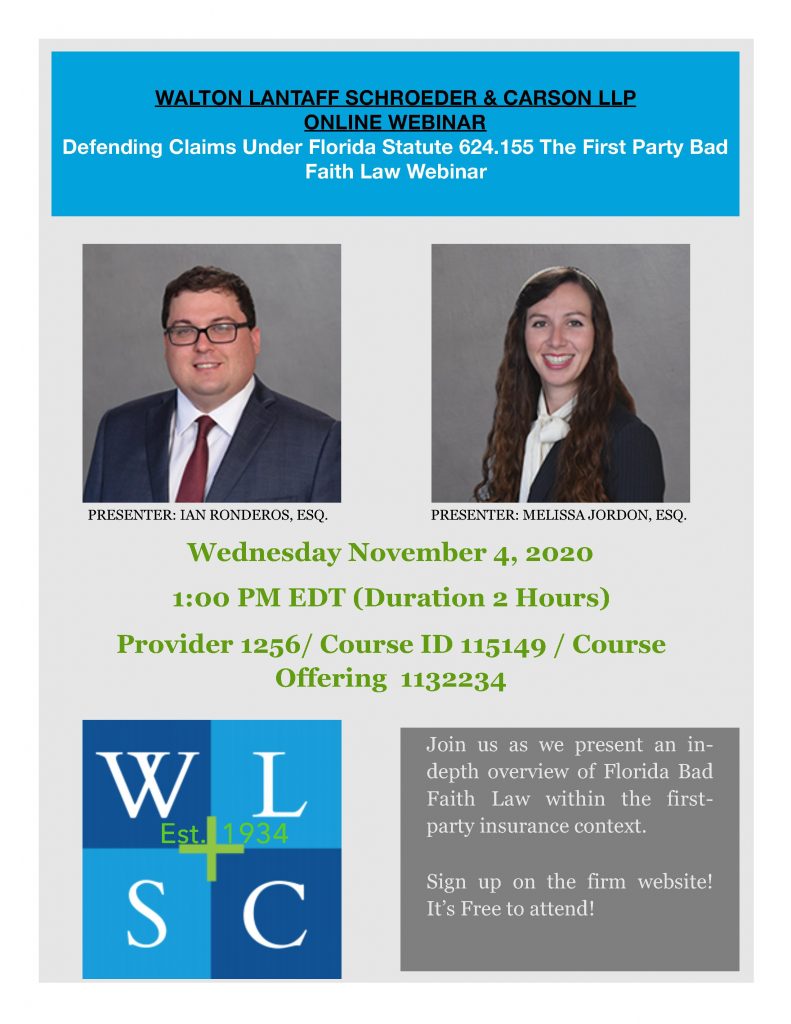 Click or Copy/Paste the link below to Register Now

https://us02web.zoom.us/webinar/register/WN_A4XbwcJ6QuqReGZl_ydojA
Walton Lantaff Schroeder & Carson invites you to attend a free CEU webinar.
Targeted audience: Insurance Adjusters
Course Objective: This webinar presents an in-depth overview of Florida Bad Faith Law within the first- party insurance context. The presenters will describe the theory and practice of litigating bad faith cases from inception to conclusion, while also providing updates in Florida law governing bad faith actions.
Course Relevance: In order for adjusters to appropriately handle claims, they must have an understanding of current Florida Laws. This course is intended to provide them with an update on case and applicable statutory laws.
Date: Wednesday November 4, 2020
Time: 1:00 p.m. EST
Duration: 2 hours (approx.)
Provider 1256
Course ID 115149
Course Offering 1132234
Study Method: Classroom (Webinar)
Course Level: Intermediate
Course Authority: CE 3-24a – Adjuster Law and Policy 2 hour
Presenters:
IAN RONDEROS, Esq.
MELISSA V. JORDON, Esq.
Click or Copy/Paste the link below to Register Now

https://us02web.zoom.us/webinar/register/WN_A4XbwcJ6QuqReGZl_ydojA
---
Follow us on:
Share This