Walton Lantaff was honored by the City of Fort Lauderdale, when Mayor John P. Seiler, the Vice Mayor, and the City Commissioners presented the Partners with a Proclamation in honor of the firm's 80th anniversary. The Proclamation recognized the firm as one of the most respected insurance defense firms and one of the oldest law firms in existence in Florida.
It recognized the firm's work environment which promotes professionalism, service to the Bar and Judiciary, high ethical standards, integrity among its attorneys, and charitable giving.
June 6, 2014 was proclaimed "Walton Lantaff Schroeder & Carson Day" in the City of Fort Lauderdale.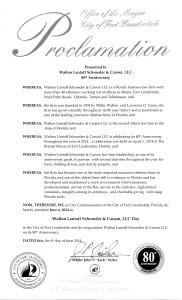 Share This