Claimant's counsel argued the decedent was a 'statutory employee' of the insured employer….  But, as a subcontractor he wasn't covered.
In the summer of 2008, a construction worker fell off a ladder and was killed. The deceased worker's estate filed a wrongful death action against the contractor. The suit was tendered to the firm's client, an insurance carrier that had issued a CGL policy to the contractor.
The carrier declined to provide defense and indemnity with regard to the wrongful death suit. In response to same, the plaintiff and the insured contractor entered into a Coblentz agreement which included entry of a consent judgment in the amount of $4,350,000. The policy limits were $1,000,000.
The personal representative of the injured worker's estate, as assignee of the insured, filed suit in federal court in Miami against the carrier to recover the consent judgment asserting that the carrier wrongfully refused to defend; that there was coverage under the policy for the claim based on the facts of the incident; and, that the $4.35M consent judgment was reasonable and made in good faith based on the facts pertaining to liability and damages.
WLSC was retained to defend the suit filed against the carrier. The case was handled by Jack Joy (Sr. Partner – Ft. Laud.); Jim Armstrong (Jr. Partner – Miami); and, Kelly Corcoran (Jr. Partner – West Palm Beach).
In defense of the suit, the firm developed the position that Plaintiff was a "statutory employee" of the insured contractor under Sec. 440.10, Fla. Stat.; and, thus, there was no coverage for the claim under the CGL policy based on exclusion "d" (bodily injury to an employee of the insured); and, exclusion "e" (obligations of the insured under a workers compensation law). This coverage defense was based on a 1997 decision of the Florida Third District Court of Appeal in FIGA v. Revoredo, 698 So. 2d 890 (Fla. 3d DCA 1997), a case handled for the firm by Mr. Joy.
In opposition, Plaintiff asserted that they were entitled to recover the excess consent judgment based on the carrier's breach of the duty to defend, and the facts and case law which held that exclusions "d" and "e" did not apply to a claim by an employee of one subcontractor against another subcontractor.
Following completion of discovery, the parties filed cross-motions for summary judgment on the coverage issues. The federal judge ruled in favor of the insurer, holding that there was no coverage under the policy for the claim.
— by Kelly Corcoran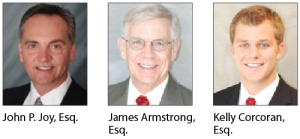 Share This